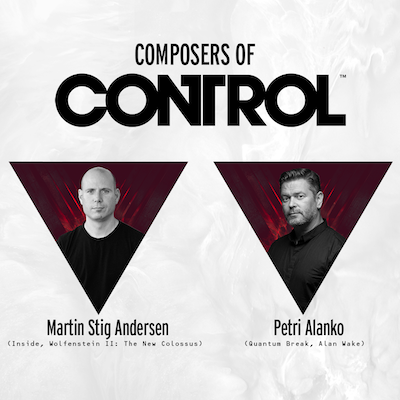 Remedy Entertainment Announce Martin Stig Andersen as 'Control' Composer, with Petri Alanko
We are excited to reveal that Air-Edel's Martin Stig Andersen and fellow composer Petri Alanko have been announced as the composers for the upcoming video game, 'Control', for Remedy Entertainment. Combining Andersen's experience with creating eerie compositions with Alanko's unique blend of orchestral and electronic arrangements, the renowned duo is joining forces to form an otherworldly soundscape for 'Control's' mysterious world.
"I couldn't imagine a better match for Control than Petri Alanko and Martin Stig Andersen. Martin's deep and moody style combined with the unique energy of Petri Alanko elevates the end result into something special," said 'Control's' Game Director Mikael Kasurinen. "While both capture the tone of the experience, they approach it from different perspectives, complementing each other beautifully."
'Control's' score is being carefully crafted to back an ever-changing world that juxtaposes reality with the unexplainable. Andersen and Alanko's scores will mirror Control's dynamic gameplay elements by evolving around the game's moments of stirring surrealism and fierce action.
"We knew Control required a very specific form of music to fit the aesthetic vision. Given the exceptional scores of their previous projects including Alan Wake, Limbo and Inside, it was clear to us that combining the talents of both Petri Alanko and Martin Stig Andersen would be perfect for creating such a weird, supernatural soundtrack for Control," said Control's Senior Audio Designer Ville Sorsa.
'Control' is available to pre-order now and will release on Tuesday, Aug. 27, 2019, for physical and digital retail on PlayStation 4 and Xbox One, with a simultaneous digital launch on the Epic Games store for PC.
Watch the trailer, with music and sound effects from Martin.