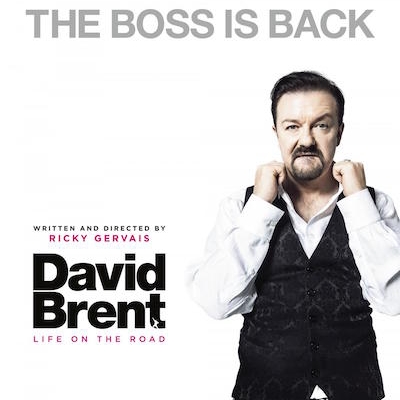 Outstanding Reviews for David Brent: Life on the Road! Recorded and Mixed at Air-Edel
"The funniest film of the year – fact!" – The Mirror ★★★★★ "toe-curling genius" – The Daily Star ★★★★★ "Ricky Gervais at his toe-twistingly funny and poignant best" – The Telegraph ★★★★ "Excruciatingly brilliant" – The Independent ★★★★ "make you laugh, make you gasp and might even tug at your heartstrings." – The Times ★★★★
Entertainment One presents the highly anticipated big-screen debut of one of comedy's best-loved characters, David Brent played by Ricky Gervais. The film catches up with Brent twelve years on from the BBC mockumentary 'The Office' to find he is now a travelling salesman with Lavichem, a cleaning and ladies' personal hygiene products company. However, he hasn't given up on his dream of rock stardom and is about to embark on a self-financed UK tour with his band, 'Foregone Conclusion'.
Assembling a group of session musicians who are just in it for the money, and talented rapper Dom (Ben Bailey Smith) in an attempt to gain street cred, Brent cashes in his pensions and takes unpaid leave in a bid to turn his dream into reality. Get ready to join David Brent on the road as he takes one last shot at fame and fortune.
Andy Burrows, drummer from Razorlight, was the Musical Arranger for the production with original songs written by Ricky, several of which feature the string arrangements of Air-Edel's Michael J McEvoy.
Nick Taylor, who also features in the film, recorded, mixed and mastered the music for the production in Studio 1, assisted by Rommy Turtev.
The film is released on the 19th August.