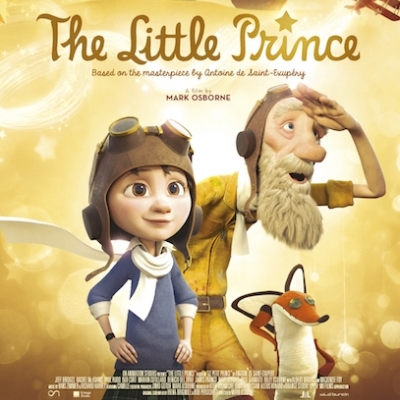 5 Star reviews for 'The Little Prince' soundtrack by Hans Zimmer and Richard Harvey
"Magical French-tinged score" Independent, "most wondrous soundtracks for an animation film" Weekend Warrior,"jazzy period score" New York Times, "enchanting" Film Journal International, "lush score" Vox.com. "an enchanting and emotional journey…The two composers are really masters of their craft" Film.Music.Media. "solid, beautiful, majestic" Amazon
Fabulous reviews following the US release of the Netflix original film 'The Little Prince' which aired on Friday 5th August! Antoine de Saint-Exupéry's children's tale is reworked as a flashback story told to a lonely girl in a feature-length animation, directed by Mark Osborne. Air-Edel's Richard Harvey co-composed the score with Hans Zimmer!
"A little girl lives in a very grown-up world with her mother, who tries to prepare her for it. Her neighbour, the Aviator, introduces the girl to an extraordinary world where anything is possible, the world of the Little Prince." The production features an all star cast including Jeff Bridges, Paul Rudd, Rachel McAdams and Ricky Gervais.
"As the story is French in origin the music bears a lot of French influences and has the touch of the wonderful noted French artist, Camille, at times throughout the score. The impressionistic touches are lovely to hear and the orchestrations are an aural treat.
There's a lot of variety here, but throughout is a consistent tone of magic, beauty, and deep feeling – much like what the book conveys to the sincere reader. Almost every track is highly listenable, and most of them are beautiful enough that one wants to listen to them again and again. Although I enjoy the overwhelming majority of the soundtrack, my favorite track is "Escape" which absolutely soars in emotion and energy – it's a diamond among the many gems found here and became an immediate favourite" 
***** Amazon Soundtrack Review
"The visual style faithfully renders the illustrated forms of its characters, and the accompanying score by Richard Harvey and Oscar winner Hans Zimmer perfectly complements the thoughtful sense of wonder that underscores the story." Wegotthiscovered.com
"Most notably, the score, co-composed by Hans Zimmer and Richard Harvey, is a lyrical, lovely piece of work. It carries the viewer along, fluidly tying together the worlds of "The Little Prince" (both the girl's and the story of the prince)." RobertEbert.com
"The music from Hans Zimmer and Richard Harvey is ethereal — at times so perfectly low-key it's as if it's part of a dream." Chicago Sun-Times