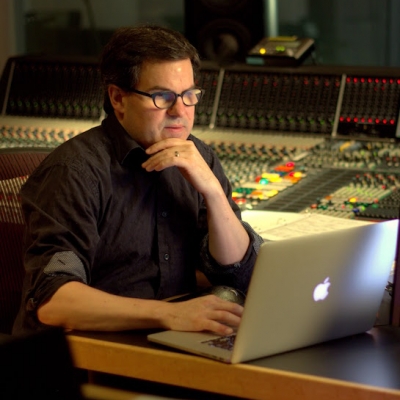 Music Editor Mark Willsher joins the Air-Edel Roster
We are delighted to announce our latest signing of Music Editor Mark Willsher. Mark has worked on a huge selection of outstanding productions including The Lord of the Rings and The Hobbit trilogies, Up, The Social Network, King Kong and many more. Not only is he an established Music Editor, Mark has experience in recording, mixing, and producing film scores as well as working as a Music Consultant.
Motion picture work has taken him to some of the world's finest audio facilities including: Abbey Road Studios, Air Lyndhurst, Teldex (Berlin), Park Road Post Production (Wellington), Mosfilm (Moscow), the MGM Scoring Stage at Sony, and the Newman Scoring Stage at 20th Century Fox. He is a three-time nominee for the Golden Reel Award for feature film music editing. Mark's score mixing credits include Howard Shore's OST albums to The Aviator and Soul of the Ultimate Nation, Dong-Jun Lee's score for 2009: Lost Memories, and Zach Johnston & Matteo Roberts Score for Moom.
Outside of the film world, Mark has an extensive classical recording discography. Recognized for the clarity and realism in his recordings; he has had the pleasure of working with a long list of world class musicians and composers including: The Cypress & St. Lawrence String Quartets, pianists Garrick Ohlsson and Robert Silverman, baritone Stephen Salters, conductor Julian Wachner, and composers John Adams, Jennifer Higdon and Elena Ruehr. Mark's recordings include both studio and live productions at facilities such as Skywalker Sound, Stanford's Bing Concert Hall, CBC's Glenn Gould Studio, and the Banff Centre for the Arts. Mark has also collaborated extensively with renowned Grammy-winning Producer/ Engineer Leslie Ann Jones on projects with the Kronos Quartet, Chanticleer, and most recently The Colorado Symphony under the direction of Andrew Litton.
Mark has a Bachelor of Music from the University of Ottawa. He spent four consecutive terms as an audio associate at the Banff Centre for the Arts, learning everything he could from such distinguished guest faculty as John Eargle, George Massenburg, and Wieslaw Woszczyk.
Mark is a voting member of the Audio Engineering Society (AES), The Recording Academy (NARAS), and the Motion Picture Sound Editors (MPSE).