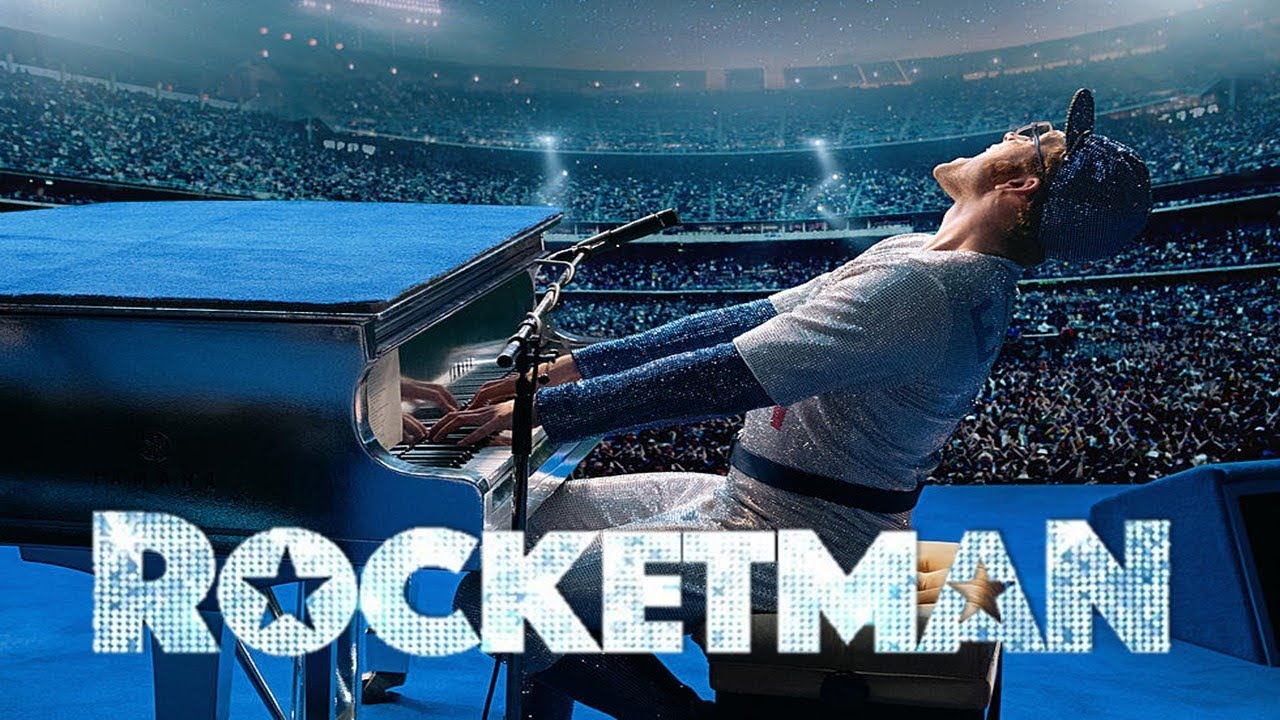 Life as the Vocal and Piano Coach on Paramount Pictures fantasy biopic 'Rocketman'
Following the release of Paramount Pictures hit fantasy-biopic, 'Rocketman', which tells the story fantastical human story of Elton John's breakthrough years, we chatted with Air-Edel's Michael L. Roberts, vocal and piano coach for the feature, about his collaboration with Taron Egerton.
Hi Michael! What an amazing film 'Rocketman' must have been to work on. How did your affinity for performance coaching develop and what was your first job in this industry?
Coaching runs in my family and, in recent years, I have had the great joy of working with my father – expanding upon his original public-speaking method – to include my own performance techniques. I frequently used aspects of both during my work on 'Rocketman', many of which in ways I'd never imagined having the opportunity to do, but which worked out wonderfully (and often with Jamie Bell – very humorously) well. My initial body of work in the field consisted of twelve years spent as a vocal, piano and multi-instrumental coach, head of jazz studies & performance, and professional associate, at schools, colleges, and conservatoires across the UK. While I had worked with many individual actors in the past, and had original songs featured on screen before, 'Rocketman' represented my first complete involvement in a feature film.
What was your route into working on 'Rocketman' and how did you prepare for the demands of the role as Taron's vocal coach and pianist for the project ?
I had the great privilege of being known to Greg McAllister – an engineer on Giles Martin's team at Abbey Road – who recommended me once pre-production was underway. My initial preparations involved getting inside Elton's piano-playing and performance styles through transcription and footage, in a way I had not previously had reason to do in such depth. It was good to be reminded from his live performances how much of a bluesman he presented himself as when let loose, so to speak – a quality which played a key part in preparing Taron for sequences like 'Crocodile Rock', Kit Connor for 'Saturday Night', and Matthew Illesley for 'Bitch Is Back'. For Taron, I would compile vocal and piano playlists – to keep him in the right aural space for the performance-prep. My guiding principle was that Elton John hadn't heard in 1970 what Taron Egerton had heard by 2018, so we needed to control the influence-range in order to get the purest rock'n'roll vibe from his voice and approach. Our turnaround time for Jamie Bell, Bryce Dallas Howard, Richard Madden and the rest of the cast was pretty tight, so I would ensure that I had as nuanced a knowledge of their voices, songs and the new arrangements as possible, working closely with the always-inspirational Giles, in order to get their coaching and pre-record sessions on track without pause.
How did you find collaborating with the cast, and Taron of course, in particular?
Collaboration is truly the right word in this case. I knew immediately that for those cast members less experienced in singing, their dramatic capacity would be key to my vocal coaching. On the piano side, Dame Harriet Walter and Matthew Illesley had played previously, while other cast members were comparatively new to the instrument. It was a consistent balancing act, therefore, of the cast's strongest abilities with my coaching techniques and the music itself. Taron's frankly unstoppable drive, focus, and innate musicality throughout enabled us to ensure that everything new I presented to him was rapidly internalised, and not forgotten by the next session – so, in piano-terms for example – we made pretty rapid progress in the first few weeks of pre-production – from one finger melodies to two handed blues improvisations – thanks to a constant sense of cumulative progress. Watching Taron and director Dexter Fletcher consummately steer the shoot they had crafted together so meticulously was an inspiration to all on-set, and I think we all felt compelled to up-level our efforts in response at every turn – month after month!
Can you describe a typical day in the life of the 'Rocketman' set, and what were the most enjoyable and challenging aspects of coaching?
I suppose the trope to roll out here is that there was no typical day on 'Rocketman'… the boundless sense of excitement that Dexter maintains on-set is pretty infectious and transformative. As such, the timetabled coaching sessions we enjoyed before and during principal photography were the only real fixed point in an ever-changing environment. I adored working at Bray Studios outside Windsor – steeped as it is in such Hammer Horror history. Every day was long and profoundly rewarding: in my typical mode of operation – listening to great music all day long makes me want to go out and play music all night long. Similarly with this, watching incredible dramatic performances take-after-take has subsequently inspired a return to some forthcoming dramatic efforts of my own. The greatest challenges revolved around changes in music during the shoot.
Part of what makes this film so great is its pace and energy – created in no small part by a vibrance of on-set spontaneity. I approach performance coaching from the angle that 'practice makes permanent, not perfect' –  so I always worked hard beforehand to ensure that the cast were as overly-familiar as possible with the material they'd come to perform on set. Thankfully, the amount of talent in the room enabled us to react and respond to changes effectively, having built so much trust with each other during the coaching sessions. With regards to those elements I enjoyed the most, it is a very long list – Kit, Bryce and Richard's fearlessness, Jamie, Dexter, Harriet, Giles and Matthew's ability to crack me up every second I was in their company. Taron and I shared two of the most special moments I'll take from this experience – 'Crocodile Rock' and 'Your Song' – myself at a keyboard off-camera, communicating with him via earpiece – he supremely singing both songs live, and doing a beautiful job of the piano parts, too, with Dexter smiling at us both for the duration!
The film starts at the very beginning of Elton John's career, following him through to his rise to stardom, during which he played some of the world's largest stages. How would you say his performance style developed throughout the film, and what was required of Taron to recreate that?
Sincerely, I felt that Taron went on his own journey of performance-development throughout the process, one which mirrored accurately the kind of shifts in approach we all undergo as artists as our style becomes more personal, more intricate. At the heart of my vocal work with him was the significance of rock'n'roll phrasing as Elton becomes more entangled in the darker elements of his story. Compare Taron singing 'Saturday Night' with his opening throes of 'Goodbye Yellow Brick Road': both possess rock'n'roll qualities, but in very different ways. The fire in his voice for 'Saturday' is ambition-fuel. For the start of 'Goodbye' it's a torture. This sensibility, coupled with Taron's clever accent-grading throughout the film, from boy from Pinner, through RP, to transatlantic inflection, provides those in the audience without rockstar experience with a profound sensation of the air (or lack thereof) 'up there'!
Is there a song or sequence in the film that you feel particularly captures the essence of Elton John's persona?
It's an interesting question because the answer depends primarily on how you weigh up the lyrics of Bernie Taupin with the compositions of Elton John. Both have often admitted to not being entirely certain about some of the lyrical meanings, and the listener might be inclined on some level to assume they're hearing the life experience of Taupin rather than John. That said, I find the most exciting part of artistic collaboration happens on the edges where creative forces collide – and I think there will always be an inevitable and unavoidable mirror of the life you're living in the art you're making – musically, lyrically, or otherwise. For me, then, the title-song encapsulates a sense of loneliness that so perfectly reflects Elton's 'starved of oxygen' condition when it appears in the film: "Rocketman – burning out his fuse up here alone". Having acknowledged the power of that perfect marriage of music and film, I think it's also important to note the impact the audience feels when listening to the film's closing number: 'I'm Still Standing' – this is Elton's story – the truth, the fantasy, the redemption. In my opinion, that song enjoys its moment of greatest artistic significance in this film – it allows us to hear how far Elton has come.
Thank you so much, Michael – we absolutely love the film. You can listen to the entire 'Rocketman' soundtrack on Spotify now.