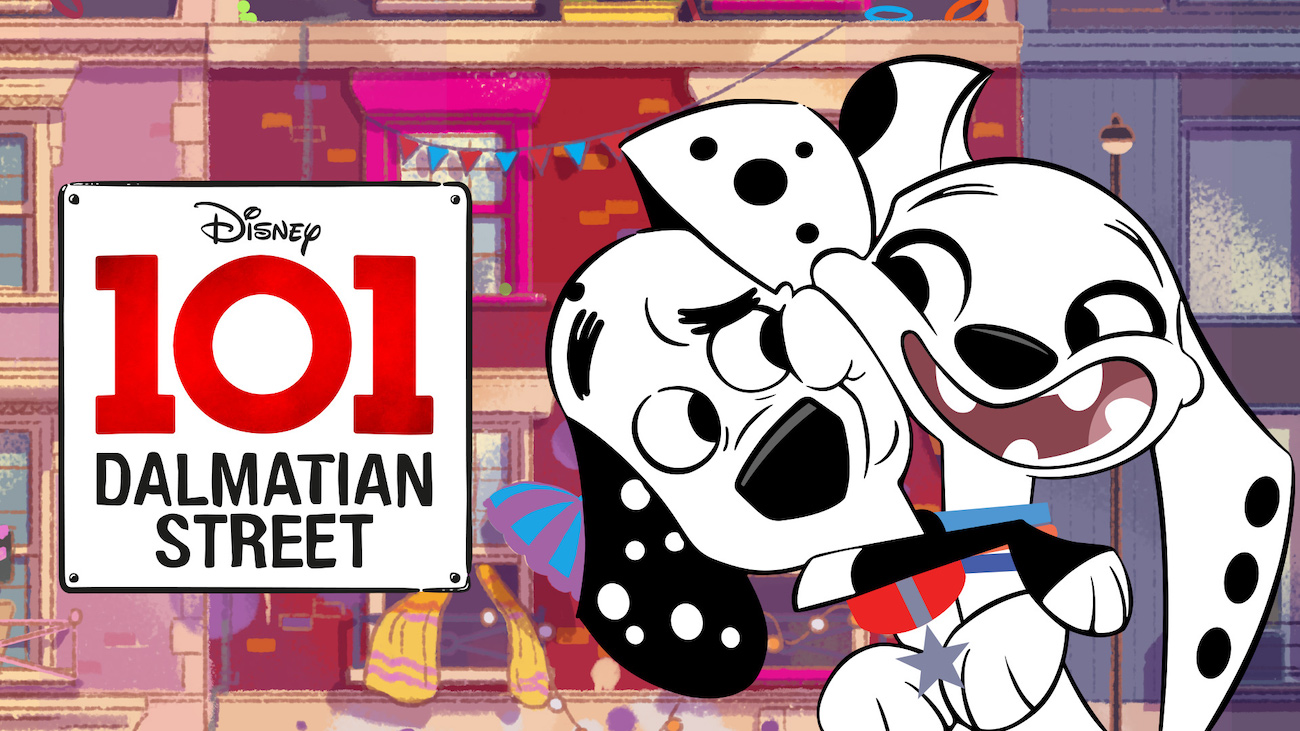 Composing the score and songs for Disney series '101 Dalmatian Street' with Rupert Cross, Theo Vidgen & Nathan Klein
Following the release of Disney Channel's beautifully fun, animated series '101 Dalmatian Street', we chatted with Air-Edel composers Rupert Cross, Theo Vidgen and Nathan Klein about their collaboration on the show, which introduces a new generation of children to the wonderful, spotty world of Dalmatians.
'101 Dalmatian Street' is inspired by Dodie Smith's timeless 1956 novel and Walt Disney's classic 1961 film, '101 Dalmatians'. Reimagined for the 21st century, the programme is set in modern-day London and follows the adventures of eldest siblings Dylan and Dolly, their parents Doug and Delilah, and 97 younger puppies, whose names also begin with 'D', in an epic comedy about family life, multiplied one hundred and one.
Disney has an incredibly rich history of magical scores, and although the series required a contemporary take, were you influenced by any of the traditional animation scores we all know and love?
Rather wonderfully at the start of this project, we were invited to Disney's main London office to watch the original 101 Dalmatians on the big screen. It really was a joy to hear George Bruns' fantastic score in this environment. Although we have taken some of the orchestral colours from his palette, we were equally keen to help tell these new stories with a contemporary soundworld that also shows off the sounds of London in 2019.
Passion Animation Studios executive producer Cara Speller mentioned in an interview that the music needed to reflect the setting of Camden Town, London. What musical influences/styles did you draw upon in order to emulate the vibrancy of the community?
London is obviously such a diverse melting pot of different influences and styles and this is fantastically represented by the variety of characters our protagonists meet and interact with. As such, no two scores are the same with each written to reflect these new surroundings and individuals.
Camden itself has such a rich history of vibrant and energetic music, and we were very keen from the beginning to fuse that into the score.
You've been working together on the project for over six months now – with such individual composing styles, how have you found collaborating on the series? What challenges did you face, if any?
This really has been a joy to work on together. Although we all had different composing styles coming into the project, we were fortunate to be able to have a good month from Disney to research and develop a musical style that would serve the series. This involved writing and sharing themes and ideas whilst creating and recording bespoke instruments and sounds that we felt could give the series a really unique feel. Every music cue filters through all of us and we are constantly collaborating on several episodes simultaneously.
How did you approach recording the live musicians and singers for the soundtrack, given the tight schedule and a large number of episodes to compose for? 
We've been extremely fortunate to be able to record a variety of musicians for the series and for the short films that accompany it. There are a few songs in the second half of the series that were fantastic to work on and its a privilege to bring in some of the best session musicians in London to work with us. During our R&D we recorded several instruments playing loops, themes and gestures and that has helped with the tight schedule of the series. We also play a variety of instruments ourselves, so often we record each other to get an episode written within the timeframe!
It's been an exciting few months – how have you found working on your other individual projects around the series? 
One of the real strengths of working in a team of three is that when other projects have come along, we have been able to make it work. This has been great as we are able to then subsequently feed in the skills and experience of the other work directly into 101 Dalmatian Street, whether that has been film, television, theatre, live music or albums.
Thanks so much, guys, we absolutely love the show. You can catch the next episode of '101 Dalmatian Street' at 6am on Friday 12th April on the Disney Channel.