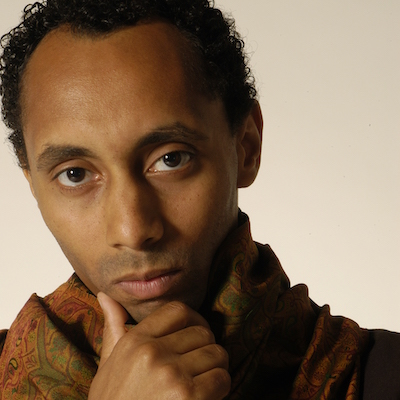 Composer Tunde Jegede Represented by Air-Edel
Tunde Jegede, a composer, producer, cellist and kora player who has been steeped in the traditions of European and African Classical music for the last 30 years, is now represented by Air-Edel.
In 1999 Tunde was appointed Innovations Composer for Orchestra Live (Formerly Eastern Orchestral Board) which brought him into contact with many orchestras in the UK. As a composer, his music has since taken him all over the world working in film, theatre and opera collaborating with filmmakers, choreographers and theatre directors. His commissions for dance companies include; Random Dance Company (UK) Richard Alston Dance Co. (UK), Forces of Nature Dance Theatre (USA) Jant-Bi (Senegal) and Q Dance (Nigeria).
Highlights of Tunde's work as a composer includes scoring 2019 Marwa Zein directed feature 'Khartoum Offside', 'In Search of Voodoo: Roots to Heaven' for Fanaticus Entertainment, and 'Winged Bull in the Elephant Case' for BBC Television, and award-winning feature documentaries '500 Years Later' and 'Hopes on the Horizons'. As a featured musician, he has performed on the Kora and Ngoni for Joe Kraemer's score for 'Mission: Impossible – Rogue Nation', directed by Christopher McQuarrie, Justin Chadwick's multi-award-winning film 'The First Grader', scored by Alex Heffes, and 'The Nanny Diaries', directed by Shari Springer Berman for MGM Studios, with original music by Mark Suozzo.
Tunde has released four albums as a solo artist including his seminal debut album, Lamentation, Still Moment, a meditative album of solo Kora, Testimony and Heritage. He has written three full-scale operas, twenty symphonic works, and his music has subsequently been performed in concert halls internationally by orchestras and artists including; The Royal Philharmonic Orchestra, The Philharmonia, London Sinfonietta, Brodsky Quartet, Smith Quartet and the percussion soloist, Evelyn Glennie.
Through his work he has collaborated with some of the finest institutions, artists and musicians in classical, jazz and contemporary music including; the Royal Opera House (UK), Lyon Opera House (France), St Denis Festival (France), Silk Road Project, Trilok Gurtu, Caron Wheeler, Nana Vasconcelos, Muta Baruka, Kasse Mady Diabaté and Des'ree. In 2012 he was nominated as a TED Fellow and as an educator he has given many talks, lectures and presentations on his work at universities, schools and colleges including; Harvard (USA), Cape Town University (South Africa), University of Pittsburgh (USA), Cambridge University (UK), University of London (UK), St Augustine College (Trinidad & Tobago), Trinity College (Eire), Purcell School of Music (UK), Berklee College of Music (USA) & Royal Northern College of Music (UK).