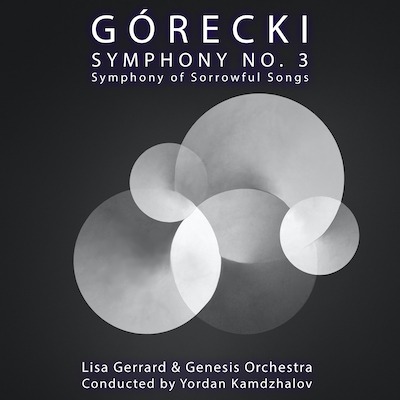 Besant Hall Records Release Górecki's Symphony No.3: Symphony of Sorrowful Songs
The Genesis Orchestra, led and conducted by Yordan Kamdzhalov, have collaborated with renowned vocal artist and composer Lisa Gerrard for a new recording of Henryk Górecki's Symphony No. 3, also known as the Symphony of Sorrowful Songs, released on Air-Edel Records sub-label, Besant Hall Records.
Originally written for performance by a solo soprano, the three movements have been lovingly reworked and rearranged to suit Lisa Gerrard's deeper register, creating an other-worldly and completely unique rendition of the piece.
When Yorden Kamdzhalov (Maestro of the Genesis Orchestra and Choir) suggested the somewhat daunting and intriguing challenge of visiting Gorecki's Songs Of Sorrows, I almost fainted delightfully with surprise. Not only was the work usually completely out of my range, the libretto was written in Polish, but how could I resist Yorden's completely innocent belief in which at that time seemed to be impossible. On we went relentlessly into the ever widening circular pools of Gorecki's inner despair, a poignantly humbling departure from hope where only the long winding shadowing strings and softly hallowing woodwinds lead us trustingly through a beautifully agonizing acceptance of our inevitability.    – Lisa Gerrard
The symphony was recorded in Sofia at the Bulgarian National Radio studios. The release also includes a beautiful live recording of "Vehadi", a sacred song by Beinsa Douno (Petar Dunov).
Working with Lisa Gerrard was simply a dream. This recording is something completely UNIQUE – beyond any clichés and earthy borders. Our new CD with Gorecki's stirring 3rd Symphony, including an exceptional live improvisation with more than 150 performers over the mystic motives of "Vehadi"  by Petar Dunoff, is a true enrichment to the worldwide audio treasury. – Yordan Kamdzhalov
The album cover features original artwork by Jacek Tuschewski. The release is now available digitally on all platforms, including Apple Music, Amazon Music, and Spotify. A physical release is scheduled for the spring.