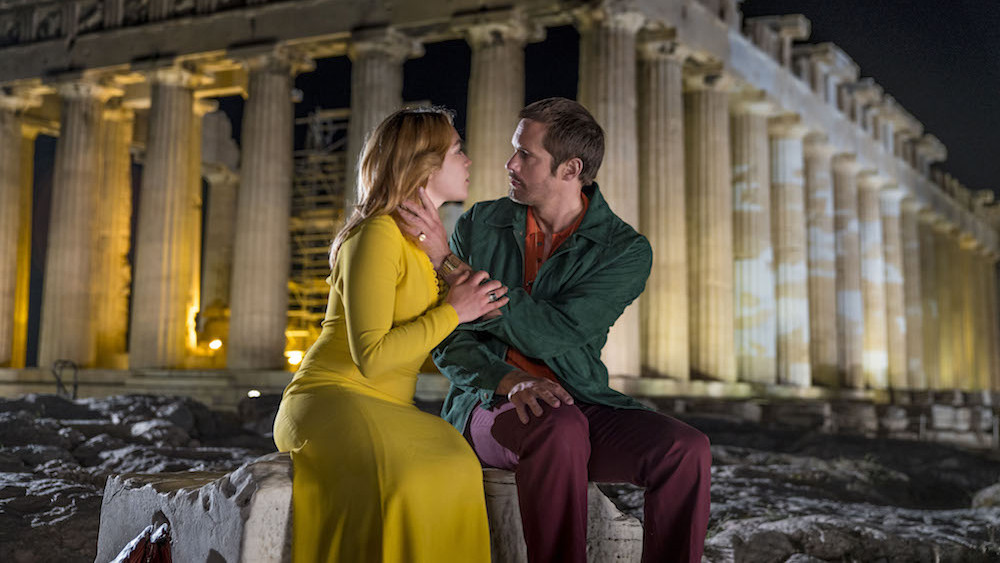 An Interview with 'The Little Drummer Girl' Television Series Music Supervisor Matt Biffa
It's been an exciting year for Air-Edel's music supervisor Matt Biffa, marked by receiving two honours at this year's Music Week Sync Awards for his work on hit Channel 4/Netflix series 'The End of the F***ing World', directed by Jonathan Entwistle and Lucy Tcherniak. Matt most recently completed supervising Park Chan-wook directed BBC One drama 'The Little Drummer Girl', based on the book of the same name by John le Carre, which stars Alexander Skarsgård and Florence Pugh. We caught up with him to find out more about the music for the series.
'The Little Drummer Girl' is set during the 70s, could you tell us about the initial ideas you had for the sound palette and how you narrowed down your choices?
The initial choices were very much informed by Charlie (Florence Pugh) and her character as she appears when we first meet her. Given that she's a radical anarchist my first thoughts were post-punk acts such as Pere Ubu, and Public Image Limited. Since the series covers a fair amount of ground geographically, I also knew that I was going to have to source radio pop from various European countries, one of those being Katsanakis Diamanti, from Greece.
The show focusses on sensitive subject matter, how did you use the music to contrast what happens on screen?
One example of this would be in the very first episode. We see MOSSAD agents surveying Michel/Salim in a tense montage. During this, the radio plays "take it easy, altes haus" by Truck Stop. As this is a German country song, it's about as contradictory as you can get for a scene such as this!
As you mention earlier, the story spans various countries, how did you go about selecting music to reflect this?
My prime concern was finding songs that I could clear reasonably easily, given that copyright clearance in certain territories is not very straight forward, due to occupation and/or civil war. For example, in Palestine, there is no formal copyright because the country is under occupation and so I had to clear songs via the Palestinian Mission in the UK. Similarly, in former Yugoslavia, many master recordings were destroyed during the civil war, so it was a bit of a mission to find songs for Charlie to listen to on the radio as she was driving through the country – one to listen out for when watching this scene is 'UFO' by Teška Industrija.
There are a number of themes which are sung/hummed by cast members – how did you oversee this from London as they filmed in Athens?
One particular fond memory I have of this is being at home on a Friday afternoon, Skyping with Florence Pugh in order to teach her how to play a Guillaume de Machaut piece on the guitar. She picked it up incredibly quickly, despite having very limited time!  
On a project of this scale you collaborated with other members of the Air-Edel team, including assistant music supervisor Ciara Elwis, music editor Andy Glen and engineer Nick Taylor – how did you undertake managing the project and the sessions?
It was quite a challenge to begin with as Jo Yeong wook, the composer, and his team are Korean, so everything was conducted using a translator. I was responsible for managing the entire score and source budget, and I collaborated with fixer Hilary Skewes to book the musicians for the sessions at British Grove for all 6 episodes. I had to ensure the lines of communication between production and the score team were open, so everyone was well equipped for the various tasks they had to undertake, from prepping Pro Tools sessions to delivering mixes to the dub. It was enjoyable watching the score being recorded with Nick, and the finished mixes sound brilliant.  For most of the sessions, as much as was possible, the musicians played together, which ultimately produces better results – allowing the musicians to play off each other's performances. In order to do this the sessions were organised to allow for the 'livest' possible recording environment whilst still retaining as much separation as possible in order to allow for editing purposes later in the process. The large recording booths at BG were utilised so that we could record the harp and piano at the same time as the strings. Separate sessions were then done to cover the woodwind, brass and percussion (including marimba and vibraphone – quite featured in parts of the score). This isolation allowed Nick to provide stems of each of the sections (Strings, Piano, Harp, Woods/Brass and Percussion) whilst still, hopefully, retaining a live feel to the music.  Andy was absolutely indispensable and was across all elements of the score from start to finish. He first produced the temp score, alongside creating entirely new score cues from existing pieces, and prepped all the final mixes to go into the dub.  What is your favourite moment in the series? My favourite moment would have to be Charlie's performance of 'The Murder of Maria Marten', which is an obscure murder ballad adapted by Shirley Collins. We loved the idea of Charlie playing a really violent song to Becker (Alexander Skarsgård), rather than something lovey-dovey. Could you tell us a bit more about your other recent and upcoming projects? I've recently been working on 'Sex Education' for Netflix, directed by Ben Taylor and Kate Herron. So far it has been both a hilarious and challenging process, in equal measures – it's coming out 5th January next year. You may have also seen the Halloween release of action-comedy 'Slaughterhouse Rulez' starring Simon Pegg, Nick Frost and Margot Robbie, which I worked on with Ciara Elwis. I'm also looking forward to starting work on the second series of 'The End of the F***ing World' for Clerkenwell Films very soon. 
Thanks so much, Matt – we love the series! You can watch previous episodes in the UK on BBC iPlayer, with the penultimate episode airing this Sunday. For viewers in the US, 'The Little Drummer Girl' screens as double bills across the next 2 nights.