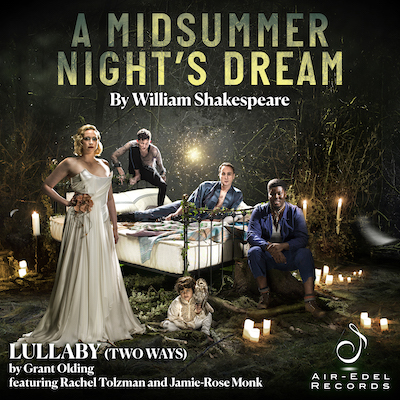 Air-Edel Records Release Lullaby: Two Ways (From "A Midsummer Night's Dream")
Today Air-Edel Records have released two new settings of William Shakespeare's "You Spotted Snakes" by Grant Olding, as featured in Nicholas Hytner's current production of "A Midsummer Night's Dream". Starring Gwendoline Christie, Oliver Chris, David Moorst and Hammed Animashaun, the production ran at the Bridge Theatre, London, until 31stAugust 2019. 'Lullaby: Two Ways' is available from today across all major digital platforms including iTunes, Amazon and Spotify.
Performed by the forest fairies, with lead vocals by Rachel Tolzman, the first version, "Lullaby", is a dream song, a half remembered melody from a childhood long since outgrown, sung to give comfort to Oberon when he wants to be soothed. The melody, hinting at faeries in flight, works against a sinewy harmony that suggests Oberon's unrest. It envelops the listener and protects them from harm.
The second imagining, "Lullaby (with Added Bubbles)" is a soulful pop ballad, performed by Jamie Rose-Monks; Oberon's unrest is now gone, and all that remains is the bliss of new beginnings, new romances, and pure indulgence.