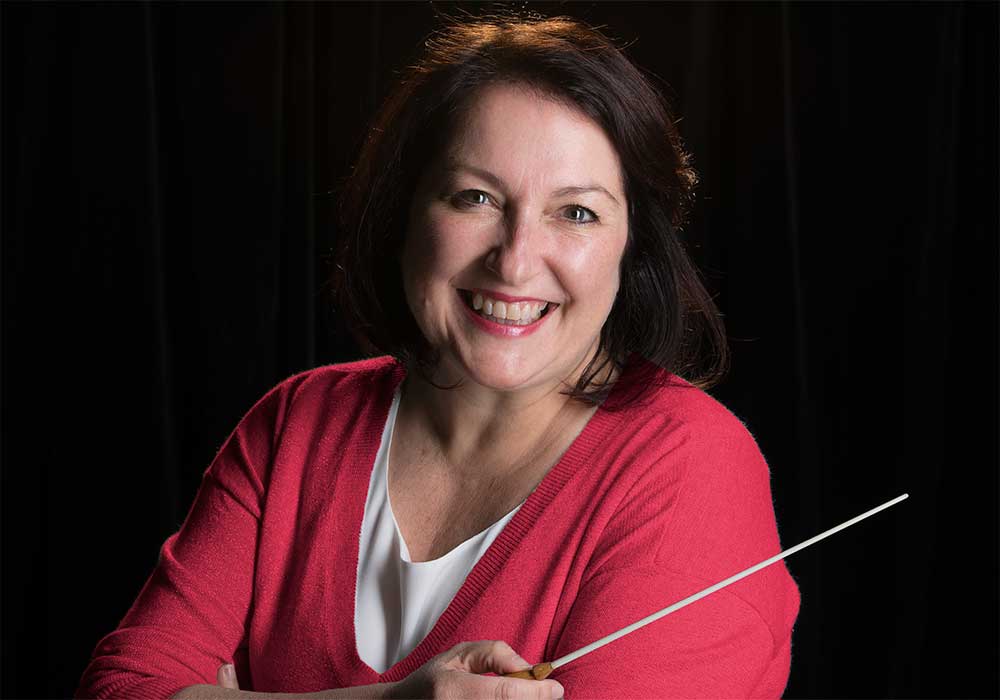 Nerida Tyson-Chew on Recent Accolades, and Scoring 'A Perfect Pairing' and 'The Deep'
June was an exciting month for Nerida. Not only did she receive an honorary degree from the prestigious Australian Film Television and Radio School (AFTRS), but she was also invited to join the Academy of Motion Pictures, Arts and Sciences!
We chatted with Nerida about these impressive milestones, and about her two latest projects, both of which have been released recently: Netflix's romantic comedy 'A Perfect Pairing', and the fourth series of A Stark Production's children's television series 'The Deep'.
Firstly, congratulations! How does it feel to be a Doctor of Arts, Film and Television?
Thank you! I am thrilled to bits to be awarded a doctorate based on my body of work – and I didn't even have to write an academic thesis!
Also, my degrees are in Music, so to now be a 'Doctor' in Film and Television feels very validating. Throughout my career I have been able to jump from feature films to TV, from drama to factual, from live to animated, and from genre to genre. I enjoy shaking it up and it's great fun to do so! It's so nice that my credits have been recognised.
And how does it feel to have been invited to join the Academy of Motion Pictures, Arts and Sciences – so soon after the ceremony at AFTRS?
It is a lovely feeling to learn that my career has been observed from afar, and to be acknowledged and welcomed to join a global community of the most accomplished artists, filmmakers and executives working in film is a real honour.
'A Perfect Pairing' tells the story of Lola, an LA-based wine executive who flies to Australia to secure a potential client – and ends up falling in love. What did you find most enjoyable about scoring this film?
It was a joy to create uplifting feel-good music, underscoring beautiful people in beautiful locations being lovely to each other.
What was the recording process like – and in particular, how did you find working with musicians remotely?
I had to score the film very quickly in an expedited schedule. I staggered my recording sessions a couple of days behind my writing over the course of two-three weeks. I previewed to my director and producing team and to Netflix pretty much at the end of every day to get approvals so that we could keep moving forward. I pretty much had all reels of the film open simultaneously in various stages – sketching, previewing, recording or mixing as I moved forward through the film. I loved it!
My recording sessions were really informal. My brilliant guitarist recorded at his place, and the strings would come to my studio in the late afternoon or early evening and we would record whatever was ready on the day they came. Sometimes it would be only for a couple of hours, and other times it might be for four.
'The Deep' follows the Nekton family on their underwater adventures. You have been scoring 'The Deep' for all 4 series – since 2015. How does the experience compare now, versus when you first started?
Yes! We now have 65 episodes currently screening! Artistically, there isn't much difference now to back then. My brief consistently is to be 'epic'! I'm so thrilled that the musical language, the colours and the thematic material which I created in the first season, which was actually a double season of 26 episodes, is still a fun and exciting style for storytelling 7.5 years later!
From expressing the emotions of an exhilarating ride with manatees to the terror of coming face-to-face with a sea-dragon, combined with evocative discovery of the mysteries and mysticism of a hidden world, the music for each episode of 'The Deep' has the powerful role of riding the range of feelings for each story as if on a rollercoaster ride. The music takes us through emotions with twists and turns, and driving action moments are balanced with feelings of mischief and delight, and at the core of each show is the heart-felt warmth of family dynamics. It is so much fun to create these feelings in music for the series!
The biggest change for me since 2015 has been in the advancement of technology – especially in internet upload speeds. The Australian National Broadband Network has me able to upload all the mixes and stems for an entire episode (2GB) for the film mix in Vancouver in under an hour now. I used to have to allow up to 12 hours back in 2015.
How do you approach the process when composing for episodic narratives, such as this one?
It's very important to me that I create a music sonic branding specific for the production. I feel that a show should be recognisable within a few seconds. Keeping a consistent palette is one method to achieve this, and in children's programming specifically, recognisable melodies is a useful way to reinforce 'the brand'. Even recently I have had adults in their 30's sing to me the theme music from programs I scored when they were children! I know that the music for 'The Deep' has become a recognisable asset for the show, which is delightful for me.
What, if any, differences have you found when composing for family audiences (for example on 'The Deep') compared to adult audiences (for example on 'A Perfect Pairing')?
For me, when I write for family audiences, the emotional range in the musical voice is wider. The writing is more a heightened drama. Excitement is a little more energetic, reactions a little more dramatic and the drama a little more reactive, the shifts in dynamics a little more extreme.
When scoring for adult audiences I find I can write in a more subliminal way, creating atmospheres and contexts for the moods of the story. Likewise when scoring for documentary I find the voice needs to be further toned down so as not to turn people's real-life stories into melodrama. I enjoy exercising these different levels of intensity in the music as appropriate to the production, creating emotional and atmospheric scores grounded in great composition, rich sonic colours and textures, with high production values.
I think this is what I find so exciting and enjoyable about being a score composer – the variety of artistic styles required and the diverse range of genres. Creating immersive scores which are bespoke, and sonically branded to the specific production, crafted with old-school skills and modern tech sensibilities is how I rock-and-roll!