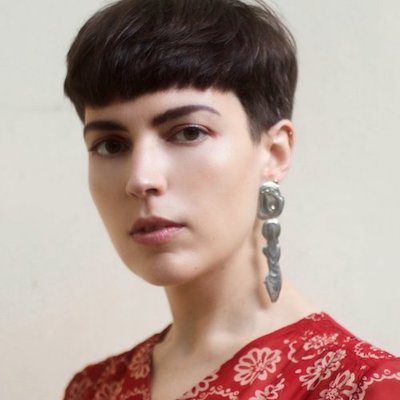 Drum & Lace Represented by Air-Edel
Drum & Lace, aka Sofia Hultquist, an Italian composer, sound artist and performer who writes and creates music for film and media is now represented by Air-Edel. Raised in Florence, Italy she received her Undergraduate Degree from Berklee College of Music (Film Scoring & Composition) and a Master's Degree (Music Technology & Composition) from New York University.
Inspired by interesting sounds and cinematic elements, Drum & Lace melds together sampled field recordings and lush layers of synths to create densely textural and beat-heavy music, greatly drawing from film music, music concrete and modern electronica. Her ambient and chamber work also gathers great inspiration from nature and natural sound, as well as the juxtaposition of unlikely sounds with one another.
Her composition work includes writing for fashion, dance, theater, and commercials for NARS, Always, Squarespace, Saudade Theatre, Tanya Taylor and Girls Who Code. Her feature-length film credits include "The First Monday in May" (dir Andrew Rossi) , "The Gospel According to André" (dir Kate Novack), "Invisible Hands" (dir Shraysi Tandon), HBO doc "At The Heart of Gold" (dir Erin Lee Carr, Tribeca Film Festival 2019) and upcoming AppleTV+ series "Dickinson" (created by Alena Smith). In 2019, Drum & Lace was commissioned to compose a new contemporary dance piece for Heidi Duckler Dance, performed at the Ebb & Flow Festival 2019.
Drum & Lace's performances often include elements of sound installation and spatial audio, most notably with events such as The Echo Society VI: Family (USA), an installation/performance at Pulse Art Fair Miami 2018 (USA), Quadraphonic Soundbath alongside Suzanne Ciani's Quad LP, an ambient re-interpetation of a Debussy opera titled "Debussy e la Natura" at Festa Dell'Opera 2018 (Italy) and Moogfest 2019. She was part of talks and events at both Ableton Loop 2018 (Los Angeles, CA) and Moogfest 2019 (Durham, NC). Her most recent performance, in celebration of her new chamber LP 'semi songs', took place in July 2019 and included a live chamber ensemble, live projections, dance, interactive light installations and special guests.