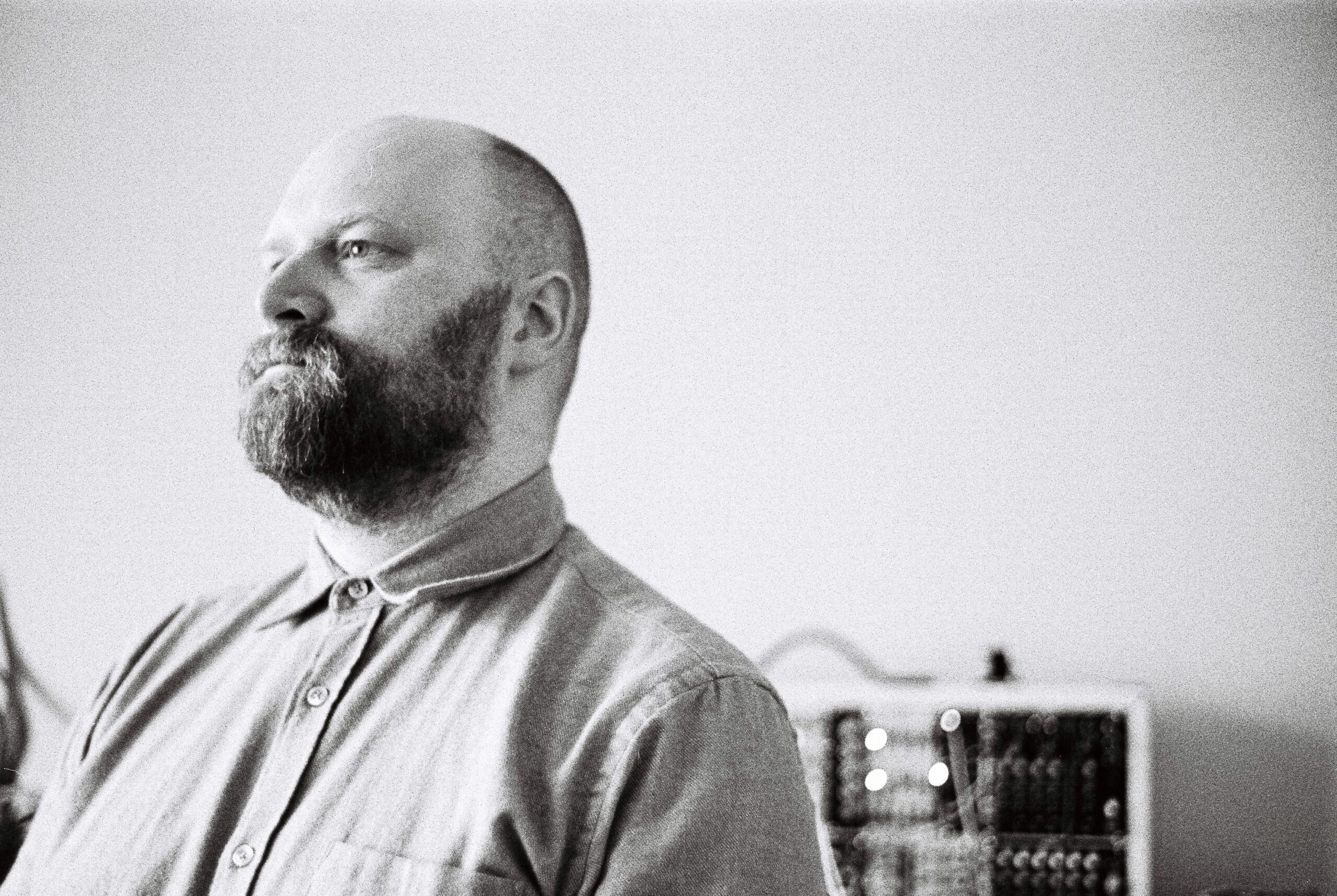 Catching Up with Daniel Elms
We caught up with Air-Edel's Daniel Elms on an exciting variety of projects. 
Earlier this year, you celebrated the world premiere of your new composition 'Consolations in Travel' – performed by the BBC Concert Orchestra for BBC Radio 3's 'Unclassified Live'. I saw on Twitter that you described the night as 'one of the best music-making experiences of (your) life'. What made this project so special?
'Consolations in Travel' is my first orchestral-scale work as an artist. Years back, when studying music, I often composed for larger forces, but the works were either those of a student battling with a certain concept or misplaced sense of self, or they remained on the page as a type of musical hypothesis. I've worked with orchestras a lot since then in various capacities, but never as a composer working on my own concert or artistic works.
It's been a long journey to get to the point where I have the confidence to write for such a large body of musicians while being true to myself and utilising my ideas for 21st-Century orchestration: which is to say treating synthesis and electronic manipulation as valid timbres within an acoustic ensemble (i.e., not a dubstep-wobble-bass slapped on top of a string section). More importantly, however, the work is deeply personal to me and signifies a tremendous amount of work that I've put into my own mental health and understanding about how I function (or disfunction), so to have the work performed at a sold-out Queen Elizabeth Hall and then hear from members of the audience and orchestra about the music resonating with them was more than I could have imagined — just incredible.
Most recently you worked as the Music Producer on 'The Northman', directed by Robert Eggers, which is released this month. Can you tell us a bit about what this role entailed?
The title 'Music Producer' has meant many different things at different times. For me, it's about preserving the brilliance of what is already there. I'm not coming in to suggest changes, or manipulate music into a certain style. I'm there because I've seen or heard something brilliant and I want to ensure that others can experience that, too. It's a principal most commonly seen in classical music recordings, but also seen much further afield, such as the incredible dedication to archival-grade recording by recording engineer Steve Albini; and producer Chris Goss, who produced the early Kyuss albums — the principal being: 'don't f*** with this'.
Robin and Seb had created an intense score, which broke just about every convention I can think of when it comes to writing for film. I opened the first project and nothing was on the grid, tracks were polytempic (multiple tempos sounding simultaneously), polymetric; there was a single instrument created from eighteen layers of a sound Robin had heard while walking past a building site on the way to the studio, and there wasn't a single piece of MIDI information to be found anywhere. It was the most brilliant, unbridled, creative piece of score I had heard for a while and — somehow — we had to record it with an orchestra and a host of niche of instruments: we used the only birch lurs that exist and I don't think that was the rarest instrument involved.
My role, then, involved a lot of communication with fixer Hilary Skewes, whose work is pure brilliance; the inimitable and decibel-defying engineer and mixer Nick Wollage; and orchestrator Dave Foster, whose ear should make anyone retreat to the shadows in fear; it involved a lot of time of swearing incredulously at both Seb and Pro Tools, and it took just about every ounce of musical knowledge I have to find a way to translate their 'demos' — which are really final tracks — into a readable and recordable score that was recorded within budget and on time, but which also retained the primal authenticity and brilliance of Robin and Seb's creation.
This was your first time working as a Music Producer on a big feature film. What do you think you learned from the experience?
I loved watching Robin and Seb work and to hear them talk about their music. They each have an incredible musical instinct, which is so distinctive and bold, but, what's more, they have the conviction to know what they're doing is right. There is an intensity to each of them, which can be really intimidating — I once had to ask Seb to 'stop looking at me like that' — but it all comes from this deep, deep will to create.
Just check out Robin's work building and curating his label Tri Angle: there's a complexity to every one of those artists and there is a distinctive sound and feel to the label, despite its diversity; it's held together by a sheer force of will and that is Robin — he's a visionary. Likewise, just listen to any of Seb's albums: it is visceral music, brutal at times, and its structures are beyond any sense of convention, but something holds it all together when it should break apart into sheer chaos and that is Seb — I'd recommend going in the deep end with 'Queen of Golden Dogs'. So, what I learned was a masterclass in self-belief and the power of following your intrinsic musical feel to create something great in the face of what can be a very demanding industry.
And if you had to choose another defining 'music-making experience' from your career so far, what would it be?
The premiere of my piece 'Bethia' at New Music Biennial 2017 for Hull City of Culture.
I'd made a conscious decision two years prior to push my concert work. I've written music since I was fifteen, but it took me nearly another fifteen years before I felt my voice as a composer had developed enough to start releasing my own material. The New Music Biennial selected me to create a new work to celebrate my hometown and every element of that piece of music is derived either from the city or its relationship to the sea: be it the actual carillon bells of Hull Minster, field recordings from the Humber, or the lyrics and musical structures taken from sea shanties; even the title is derived from a ship built in Blaydes shipyard in the city.
There was a lot of 'me' in the work, and it was the first concert in which I'd started to think of myself as an artist. To have such a personal work premiere in my hometown, get picked up by BBC Radio 3, and go on to do a second performance at the Royal Festival Hall was overwhelming: it was the end of a long journey of self-discovery, and the start of a new one. 'Bethia' is actually being performed at this year's New Music Biennial, too, to commemorate ten years of the festival. The next show is at the Southbank Centre on 3rd July — look at me: self-promoting like a champ.
As an artist, you seem particularly interested in the pushing the limits of genre – your debut album 'Islandia' is a great example of that. I have read that you describe your work as 'post-genre'. Have you found any specific challenges in composing outside of a set genre?
The absence of genre means an absence of expectation or convention, which is liberating. My harmony, like composers since the 20th Century, is based upon systems which I devise for the specific works in question — while it could be measured by any number of theoretical models, the 'key' that unlocks it is unique to the piece of music. However, just because my music is emerging from an 'orchestral' tradition, doesn't mean it should be bound by the expectations of a traditional concert audience. Some of my major influences are completely outside of that spectrum and are often works which — to me — convey a sense of place or environment, such as Hiroshi Yoshimura or Huerco S.
The challenge I often encounter is that I have to first find my own boundaries for the piece: what will inform the structure and harmony if it isn't convention? How will a new instrument that I've built or programmed sound when placed on the stage just behind the first violins? That latter point is a very important one for me: treating electronic instruments as valid orchestral members in their own right, rather than adjuncts. It takes a lot of trial and error, but I have grown obsessed by the power of the results. There's nothing inherently new about 'acoustic and electronic instruments' — I sat on a review panel once and it is literally on everyone's CV, even those applying for work in retail — however there is something unique in giving the combination of the two instruments the level of care, understanding and preparation to make them a genuinely exciting development in timbre, colour and the art of orchestration.
You have also worked as a Music Editor on a number of projects – including the BBC's 'Industry', the second series of which is due to be released, and HBO's 'My Brilliant Friend'. I wonder if your experiences working as a composer have informed your work as a music editor in any particular ways – and vice versa?
My work as a Music Editor, like my work as a Producer, I do because I love the process of making music. It's an obsession as much as anything else and it has been since I was fifteen. Working with other artists in this capacity I find endlessly fascinating — it's how I imagine it must feel going over to someone's house and rummaging through their drawers. It illuminates creative processes and that is something which is usually guarded or withheld.
This means I'm perpetually opened up to new ways of thinking and creating. For example: from working with Max [Richter] I learned how to care for and respect your team: he trusts you to do the job and gives you the space to fly; I've never met anyone working at that level who is so down to earth and respectful of others. Another example: on a recent string duet recording there was something missing from the natural acoustic of the hall. After a trying a few of my go-to fixes and it still not sounding right, I gated an artificial reverb to sound in time with the phrases of the strings — you don't do that on a 'classical' recording, but you might in techno. It is a production tip I picked up after some long conversations with Nathan Micay [composer on Industry] and about six months of listening to his recommended 'bangers' or 'tunes with a capital C' — 'choonz', if you will.