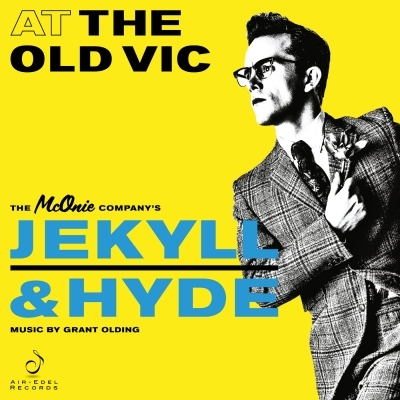 Air-Edel records release Grant Olding's soundtrack for Jekyll and Hyde
We are delighted announce that the score for the hotly anticipated new dance thriller Jekyll & Hyde has been released of on Air-Edel Records. The album features music by Tony-nominated and award-winning composer Grant Olding and is now available on iTunes, Amazon and Spotify.
Devised and directed by one of the most innovative theatre choreographers Drew McOnie, Jekyll & Hyde reimagines Robert Louis Stevenson's sinister drama in an excitingly physical new dance production. The production opens at The Old Vic on 25 May, with previews from 20 May, for a limited run until 28 May.
Composer Grant Olding said of the project:
'The challenge of creating a dance score with a split personality was the jumping off point for the music of Jekyll & Hyde. It's been enormous fun finding two distinct sound worlds and harmonic palettes that summed up Drew's characters of Dr Jekyll – a wistfully romantic botanist and his dark, sexy, dangerous alter-ego Mr Hyde, which has resulted in an eclectic score, full of contrasts."
With choreographer Drew McOnie adding:
"Creating Jekyll and Hyde with Grant has been the most extraordinary collaborative experience. He has without doubt been my music alter ego and devilish sidekick! Creating music for dance is no easy adventure because of the intricacies of tempos, and rhythms required for the dancers to perform at their best. This is of course magnified when dealing with narrative dance. Grant has created a score that is not only adored by the dancers but has caught the tortured heart of the story so perfectly! I'm really excited about the detailed and passionate result of Grant's tireless hard work and now I can't wait to share our new creation with the public."
The ballet was specially commissioned by The Old Vic as part of its new dance collaboration with Associate Artist Drew McOnie, and The McOnie Company.
Jekyll & Hyde was recorded in Air-Edel Studio 1 by Nick Taylor assisted by Rommy Turtev. Once the recording was done, Nick mixed the Hyde tracks in Studio 1 whilst Rommy mixed the Jekyll tracks in Studio 2. This way, two contrasting sounding mixes were created which heightened the differences between the Jekyll and Hyde personalities in the show.
Rommy also mastered the album in Studio 2 in time for a release via Air-Edel Records on the opening night.