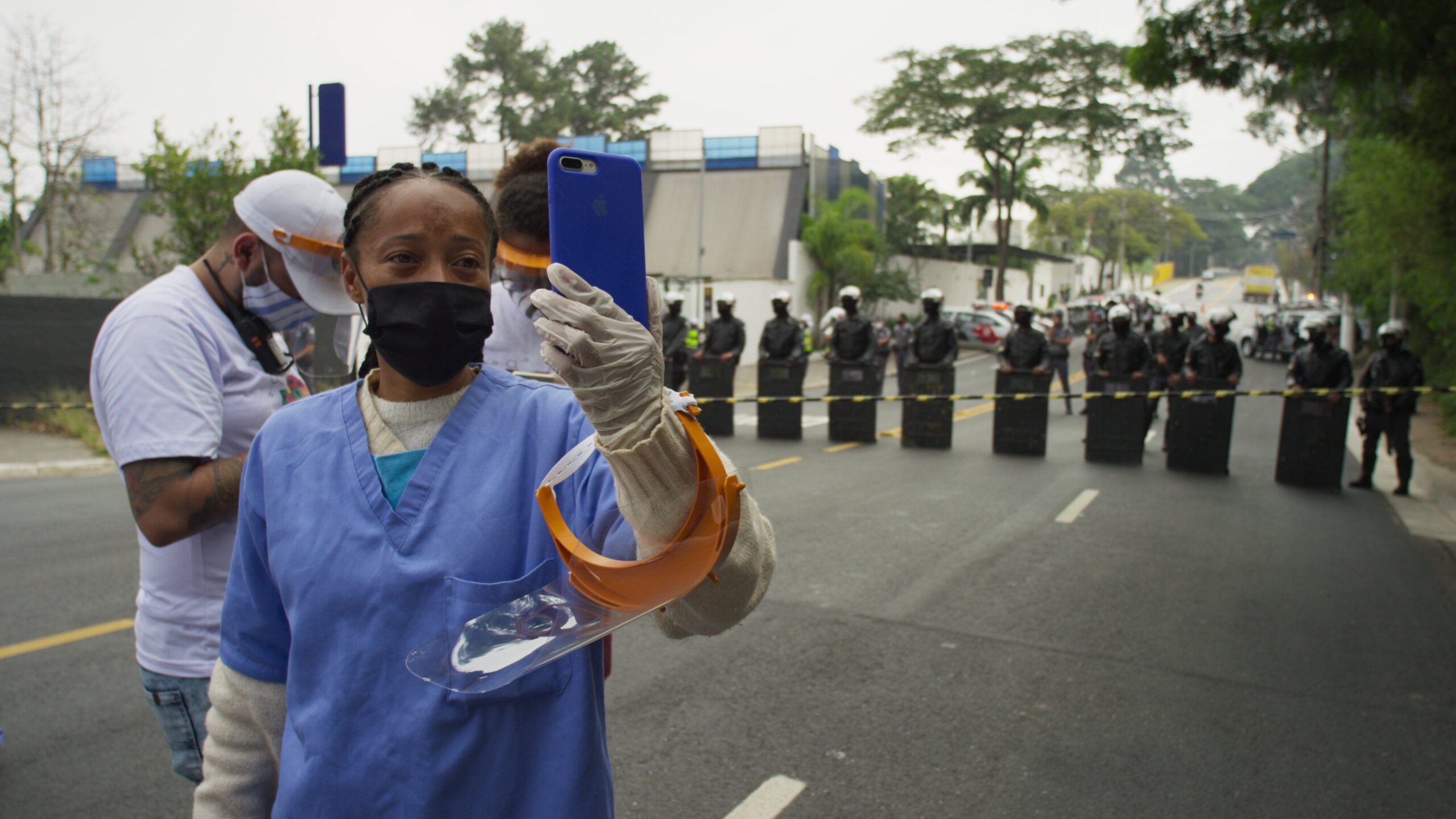 Patrick Jonsson on Scoring 'Convergence: Courage in a Crisis'
Following the release of Grain Media's documentary 'Convergence: Courage in a Crisis' on Netflix, we spoke to composer Patrick Jonsson about his experience of working on the score.
Hi Patrick, thank you so much for taking the time to talk. How have the past 18 months been for you?
Thanks so much for asking me. The past 18 months have been a bit of a whirlwind in many ways – I feel like I've been very fortunate to have been kept busy with work but at the same time all the days have sort of bled into one. I feel lucky that I've been able to keep doing what I love throughout the pandemic though, I know many people for whom it's been difficult in many ways.
And how has this affected your artistic process?
I think I've been able to adopt some good habits actually. Because I've been working from home for the last decade already, the change to being locked up wasn't such a big change. But now that my wife has also been working from home, thanks to her I've been able to sort of 'zoom out' of my own little world a little and notice certain habits I had which were not necessarily very productive or healthy. And all of that stuff feels like it cumulatively feeds into my creative process. I try to be a bit nicer to myself and give myself more space to fail basically.
Your latest project, 'Convergence: Courage in a Crisis', follows the Covid-19 pandemic across the world. In what ways did this documentary resonate with you personally?
I don't know about others but personally over the course of the pandemic I've been glued to the news many days following latest developments and political decisions that are shaping peoples lives. While it's obviously important to be up to date on current affairs, I feel that oftentimes we lose the ability to realise that every number on screen is an actual person with a life, family, and friends. So when I see films like Convergence I am reminded in a completely different way of how everyday people are able to engage in heroic acts that can really help their communities. It inspires me to be better myself, and to seek out more stories like this. There are many more reasons for us to feel unified than divided. The film invites us briefly into the lives of some truly special and resilient people, their stories resonate with me very much.
You've worked with director Orlando von Einsiedel before ('White Helmets', 'Virguna'). How did the experience of working on this project compare?
Yes, Orlando is such an incredible director and I learn so much from him, and he's also a great friend. We've worked together for many years now but I feel like we still enter every project with the same enthusiasm and energy as we've ever done. I think that's really important – we always want to push for new ways of doing things and challenging each other. I feel like every film I ever work on is difficult, it's so hard to find the answers in the beginning but as the project moves forward by the end of the process your fingers only move to the right chords and the right instruments and tonalities. It takes a certain amount of time to learn what the film is asking to be, and this project was no different. It took me a long time to find the main themes and instrumentation because this film was such a broad and global film. So I needed to explore lots of avenues before we found a palette which I'm very proud of. And thankfully Orlando is so patient always with that stage of the process and protects me and gives me time, because he knows that once we have those foundations we can fly very quickly thereafter. That's one of the great things about working with a collaborator and friend, there's a confidence in one another which ultimately gives you space to explore and leads to better work. So while every project is different, and the process can vary each time, that familiar creative relationship that allows you to do your best work is always such a great place to start.
These films focus on some very difficult subject matter. How do you approach such emotional subjects?
They really do, and it can be so difficult to just do the work when you're faced with such real issues and hardships. But at the same time, I believe in the power of film to tell these stories, and so I approach it as I would a narrative film. The key is to connect with the characters and their emotional journeys. At the same time though, these are true stories and real people so I always strive to be respectful of that. The work they do is really important so my job is just to be there to help bring unity to ideas, and to help the audience connect with our characters. I'm always so thankful when someone from in front of camera reaches out to say they liked the score to a film they feature in – there really is no greater compliment you could get in a documentary.
The 'Convergence' documentary captures stories from across the globe. How did the global setting of the documentary influence your musical choices?
I actually wanted to try and find a way to connect all of the stories rather than to accentuate the fact that we move around a lot geographically. We felt it was really important to try and focus more on what unites all these characters. There are indeed some differences in texture and instrumentation in a few moments in the film, but that was more to reflect the overall arc and trajectory of the storytelling I'd say, rather than to be too geographically specific at any point. I choose instruments based on human qualities like having 'breathiness' and feeling 'suffocating/claustrophobic'. So instruments from anywhere in the world were fair game pretty much, as long as they felt like part of the fabric of the film and helped connect our characters to one another, and us to them.
Thank you, Patrick.