Following the recent success of Netflix short documentary, 'The White Helmets' at the Academy Awards, Air-Edel's composer Patrick Jonsson was interviewed by Film Score Monthly.
'The White Helmets' won 'Best Documentary Short' at the 89th Academy Awards. It was directed by Orlando von Einsiedel and focuses on the daily airstrikes that hit civilian targets in Syria, and the group of Nobel Peace Prize-nominated first responders who risk their lives to rescue victims from the rubble.
Patrick previously collaborated with Orlando when he composed the score to his Academy Award-nominated documentary 'Virunga', executive produced by Leonardo DiCaprio.
KP: You've worked with the director before, but tell me a little bit how you became involved with The White Helmets.
PJ: We've been working together for seven or eight years now… They're kind of building a team that carries across from project to project. We all have shorthand for how we work together. And so they contacted me, Orlando specifically, and said, "Hey, would you be interested in doing this one, The White Helmets?" I said, "Yeah, of course. It sounds like a fantastic documentary and a really important story to tell." The great thing I love about his films is that I always feel like I learn something, so when I start off I know as much as anyone else, but then by the time I finish it I feel like I've really learned a lot and really got to dive deep into the subject. 
KR: It does come to that emotional swell towards the end, though, where the themes come together. It's interesting to hear that in a documentary, even a short one.
PJ: Personally, when I think of music I don't really differentiate between documentaries and fiction films, because I think it's always really about the character stories that you're trying to tell and the bigger arcs, the emotional undertones. Maybe not necessarily what you're seeing on screen at this particular moment, but maybe what the characters are feeling, or a sense of place or purpose—or in this case, it was a sense of hope. It's a very, very heavy film, so in terms of balance you have to be very careful, and so we wanted there to be an emotional payoff at the end. You can see it in what the characters are saying. Hopefully we've planted the thematic material earlier on in a subtle way and it's with the audience strongly enough so that when we arrive towards the end, it means something. When you have that kind of full release of the theme, it has an emotional resonance with people.
KR: Tell me a little bit more about that small ensemble that you used. You also added some regional flavor with qanun and santdori as well.
PJ: Exactly. We wanted the scale of it to be emotionally big, but instrumentation-wise to be more of a chamber ensemble. What sounds a bit like a string quartet is actually four or five cello voices layered on top of each other. The reason I chose the cello is because I love the emotional quality that it has, and its dark resonance. That coupled with the qanun and the santdori give it a sense of place. The qanun in particular is kind of like a santdori, but I think it has nylon strings and the tuning is more microtonal. But I tried to use that as a more textural tool so it would help give a sense of place but wouldn't be like, "Hey, look at us! We're in the Middle East!" There's a friend of mine, Michalis Kouloumis, and the way he plays folk violin is just amazing. He has this bow technique where the bow never really stops moving so it creates these harmonics and it has flute-like qualities to it. That coupled with the duduk, you can and can't see where one begins and the other ends. I thought that was quite interesting. I tried to have fun with the instruments.
KR: congratulations on 'The White Helmets' Oscar win!
PJ: Thanks so much! We would never have imagined that we would be winning that. It was fantastic to be in the ceremony and have them read out the name. We jumped out of our seats. Most of all, it helps amplify what the story is about and share the voices of the White Helmets and the important work they're doing. Hopefully that will bring people to watch the film on Netflix, and more people will become aware of the important work that they're doing over there—the really heroic efforts that they're making on a daily basis.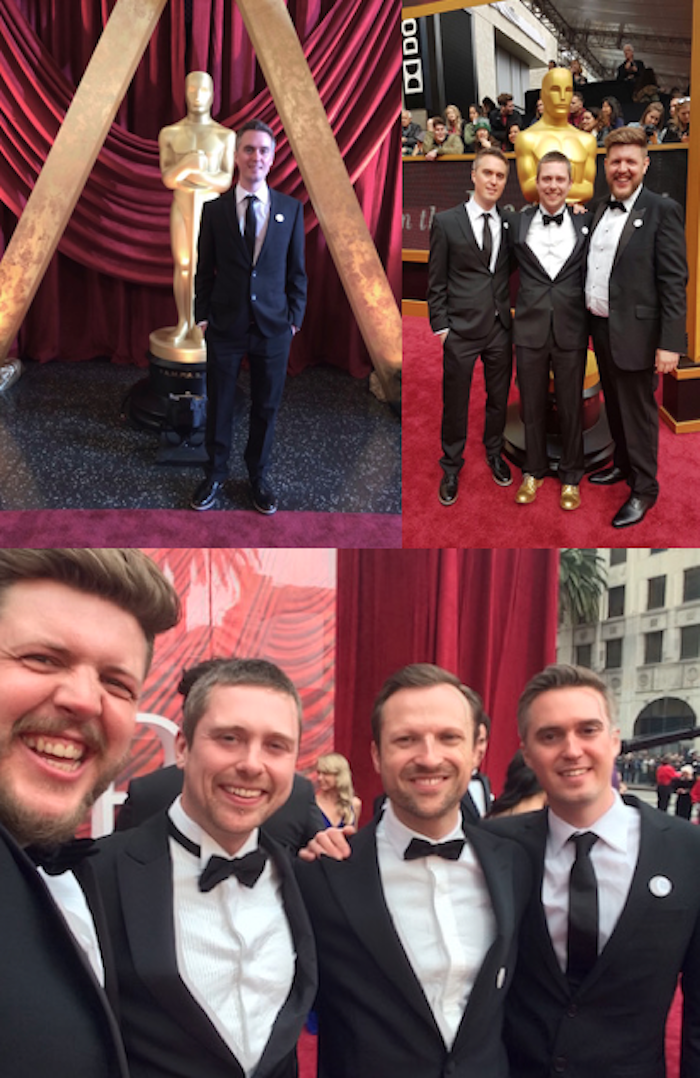 Lower picture from left to right: Sound Recordist Andrew Hewitson, Cinematographer Franklin Dow, Director Orlando von Einsiedel and Composer Patrick Jonsson.
Patrick has also recently composed the score for a five-part BBC 3 series directed by Idris Elba titled 'Five by Five', which is coming soon.
Patrick's score for 'The White Helmets' was released on Air-Edel Records in November 2016.
A number of Patrick's other scores are also available on Spotify and iTunes, including 'Frame By Frame', directed by Alexandria Bombach and Mo Scarpelli, for which he received a nomination for 'Best Documentary Score' at the Hollywood Music in Media Awards 2015. Patrick also recently composed for 'Moon Shot', a documentary web series released in 2016 for Google, produced by J.J. Abrams and Bad Robot.