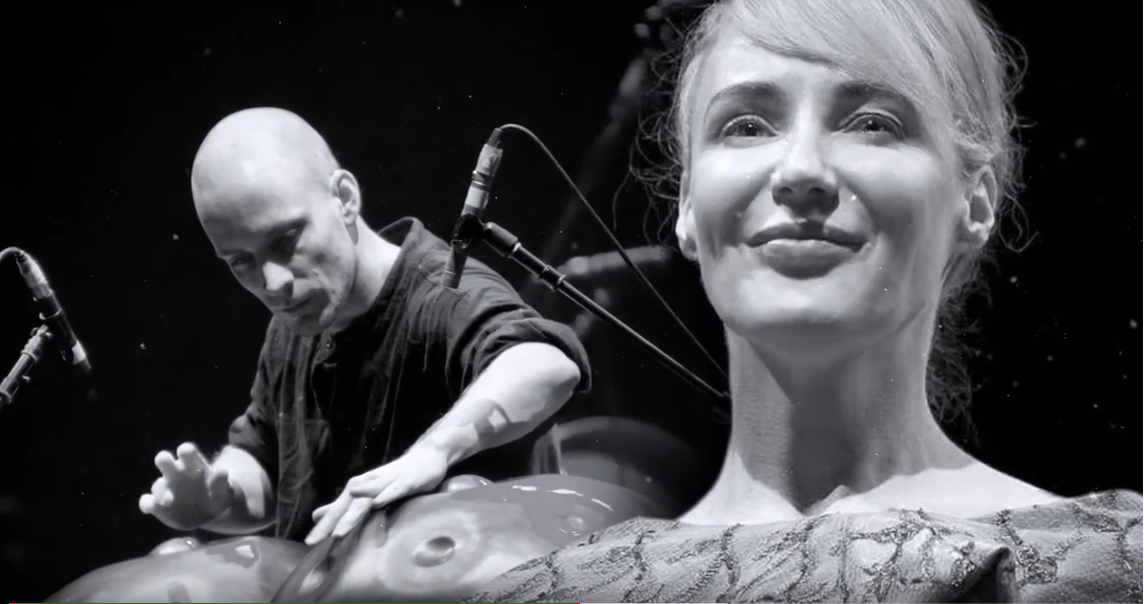 Catching up with 'Hiraeth' co-composer David Kuckhermann
To celebrate the recent release of 'Hiraeth' on Air-Edel Records sub-label, Besant Hall Records, co-composer and percussionist David Kuckhermann gave us an insight to his  long-standing collaboration with Lisa Gerrard and told us about how their album came to be.
Prelude
Dead Can Dance was the soundtrack of my youth. Something in Lisa's and Brendan's music really struck a nerve with me and it accompanied me through the many ups and downs of growing up. I couldn't believe when, many years later and after a series of unlikely events, I got a call from Brendan Perry who asked me if I wanted to join a world tour with the band.
It turned out that they needed an opening act, and besides performing some of my favourite pieces of music with them, I got to play my solo program in some of the most amazing concert halls of the world. What an opportunity!
The tour went on for more than a year and when you spend so much time together, on stage and in a tourbus, you connect on many different levels. Music and time on the tour  lead to a great friendship. After the tour finished, Lisa asked me if I was interested in working on an album together. Needless to say, I was excited.
Lisa puts so much of herself into the music and touches people in a unique way – without the need for words. It is such privilege to work with her.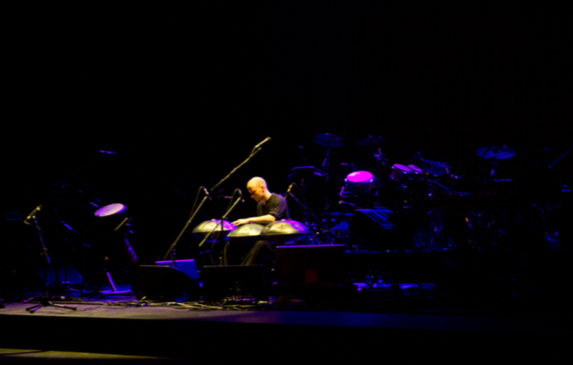 Dead Can Dance World Tour 2012 – 2013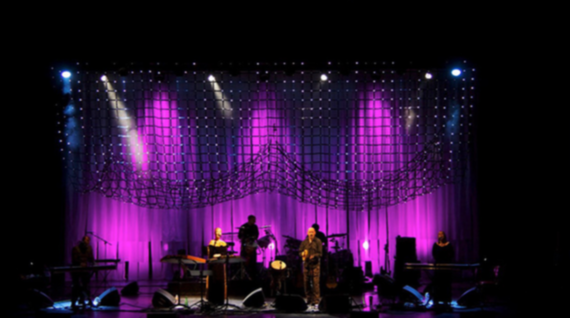 Opening Stage of Dead Can Dance World Tour 2012 – 2013
The Creation of 'Hiraeth'
Another interesting aspect of 'Hiraeth' was just like Lisa's singing doesn't follow any teachings or traditions, the Handpan is an instrument without tradition as well. It was invented less than 20 years ago and when you start playing it, you have no choice but to search for your own path with it.
While other modern instruments are chromatic and have a range of at least a few octaves, a Handpan has 9 or 10 notes from one specific scale. It is incredibly limited. On the other hand, it integrates the three worlds of rhythm, melody and harmony like no other instrument I know.
I started playing Handpan 10 years ago, after being a full-time percussionist for 15 years. It had a strong impact on my musical life, opening up the world of melody and harmony and giving me the possibility to express myself through compositions.
In 'Hiraeth', all these things come together for the first time. The world of drumming and percussion, the new and eclectic sound of the handpans and Lisa's unique voice that is a world in itself. Our amazing guest musicians Nadishana, Cye Wood and Hristina Beleva complete the sound of the album.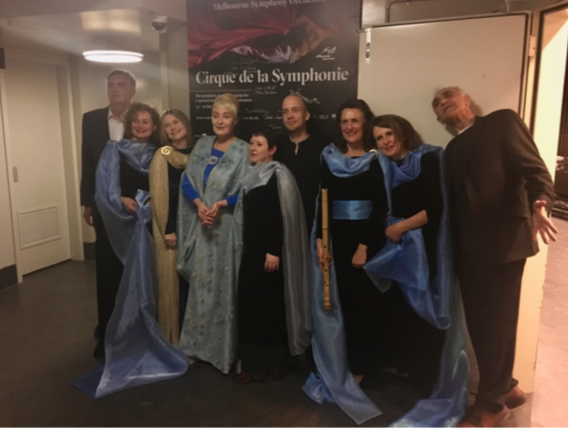 Melbourne performance with Lisa (I refused to wear the blue sash!)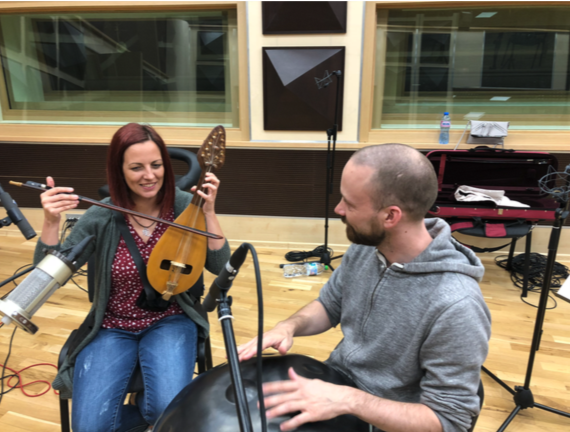 Recording the track 'Monolith' with guest musician Hristina Beleva
Besides 'Hiraeth', I recently worked on another album with Lisa – 'Boocheemish' with The Mystery of the Bulgarian voices. We have a tour of Germany coming up and some more concerts during the rest of the year. We perform with the amazing choir, a Bulgarian ensemble and the beatboxer "Skiller", playing pieces from 'Boocheemish' and 'Hiraeth'. It's another project with a crazy combination of musicians and sounds that somehow works so surprisingly well.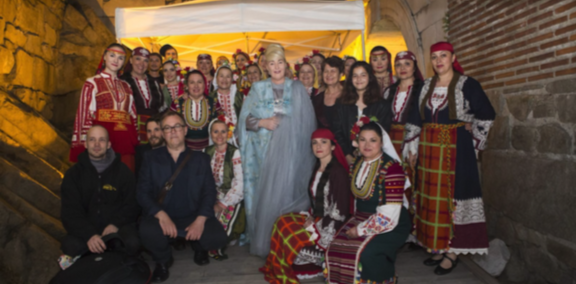 Lisa and The Mystery of the Bulgarian Voices
In September I will be on a solo tour in China for concerts and masterclasses and soon we will go on tour with Dead Can Dance again. I signed with Air-Edel Records and I'm looking forward to future collaborations. Between concerts I will work on my new album and I'm expanding my online schools World Percussion Academy and Handpan Dojo.
Most exciting of all, I will become a dad soon – What amazing times! 🙂
Thank you so much David – we absolutely love the album! It's available to listen across all digital platforms.
*If you would like to quote any of these interviews please get in touch with alice.atkinson@air-edel.co.uk*