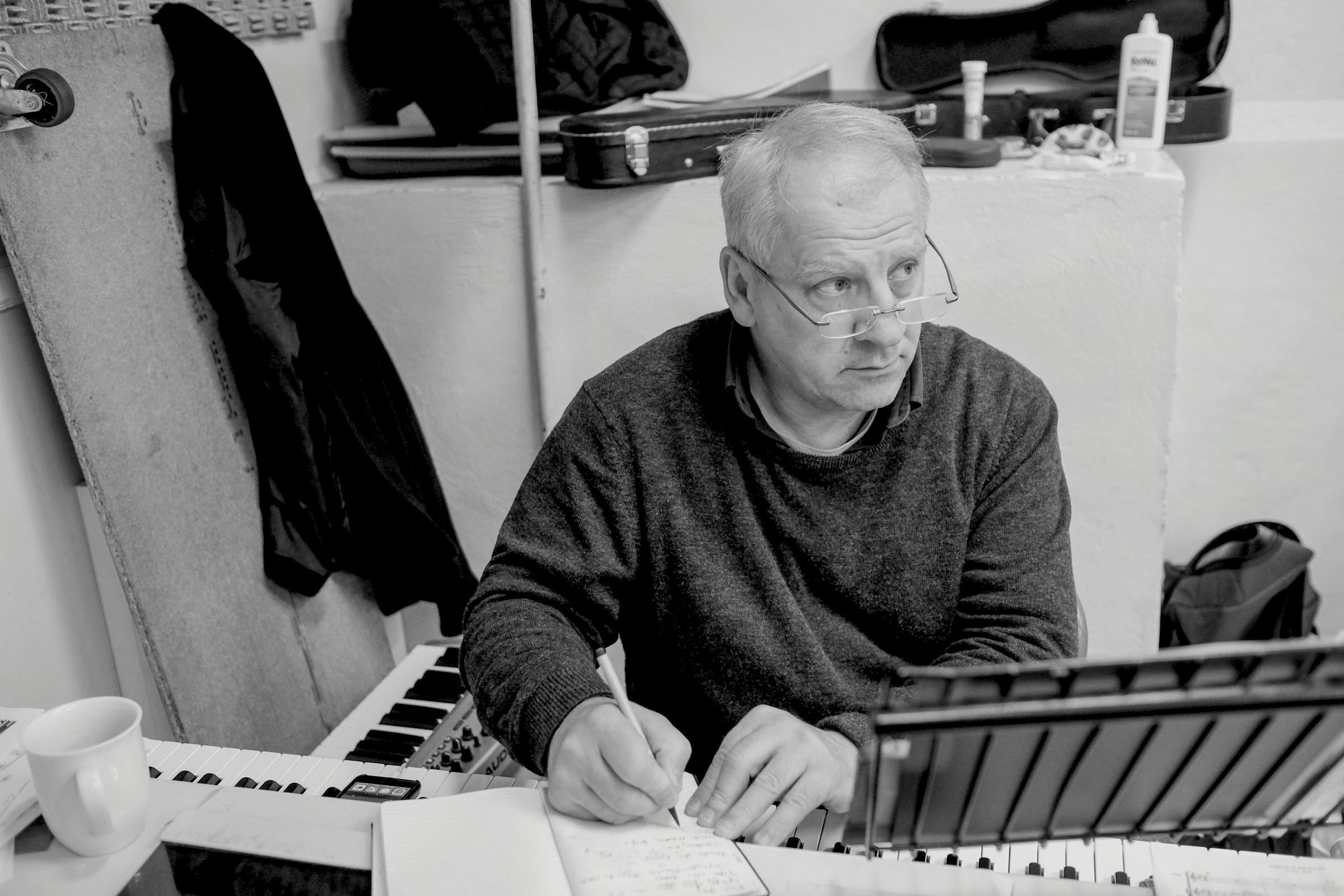 Catching up with Air-Edel's Composer, Multi-Instrumentalist & Sound Designer Simon Slater
It's been an incredibly busy year for Air-Edel's Simon Slater. 2018 opened with the revival of National Theatre hit production 'Amadeus', for which Simon was the musical director and composer. We caught up with him to learn more about his other projects, including the three theatre productions currently showing in London's west end.
You have collaborated with Rachel O'Riordan many times, most recently on Olivier Award-winning 'Killology' at the Royal Court Theatre, what did you find most enjoyable about 'Foxfinder'?
I think starting a new production is always enjoyable, and even though the play was originally produced at the Finborough Theatre, putting it in in a West End Proscenium arch theatre is quite a challenge-for all the creative team. Working with Rachel will always be intense (though laughs are had!). Every theatre director is very different, and Rachel is no exception. She likes the creative team in the rehearsal room a lot, so just watching the process is always enjoyable with Rachel and on this occasion all the actors were new to me professionally speaking, which is also an enjoyable road of discovery between us.
The play stars some brilliant actors, including wan Rheon (Game of Thrones), Heida Reed (Poldark), Paul Nicholls (EastEnders) and Bryony Hannah (Call the Midwife). How do you approach scoring the play, do you arrive with very clear ideas or does your music/sound design develop as you spend time in the rehearsals with the actors?
There are a number of elements I will always look at before I write anything. Time and period of the play, the physical environment of the play, whether it is set inside or outside-both in this occasion, and I have a sort of rule which I break often which is I will score with sounds and instruments that correspond to the number of characters in the play –in this case 4. I suppose I make notes on obvious things on the initial reading of the script-any reference to sound or music in the text from the author which might be a lead to how the score will sound. In Foxfinder there is a lot of rain and silence. Another obvious thing is to make a note of scene changes to get a feel for the rhythm of the play, its pace and energy, and what we might hear in those changes music/sound wise. Finally, at the readthrough I listen carefully to see what I feel as I hear the actors read the play to each other for the first time-initial empathies I feel from the narrative. A lot of scribbling goes on!
'Foxfinder' is set in a not too distant dystopian future, how did you use music and sound design to establish a sense of place and time, as well as bring out the more comedic elements amongst the continued sense of bleakness?
Hard question. Foremost I tend to write instinctively-in other words from improvisation-playing at my keyboard or whatever instruments I think are right in texture and feel. I went for the human element on this although saying that a lot of the music I ended up with is fast and dark and rhythmic to help with the scene changes. Oddly I had just been to a Prom and heard a fantastic Irish Low Whistle player –so the next day I went and bought one. I am pretty hopeless but can play enough for a folksy haunting melody which I did end up using. I continued with that feel by using sound and instruments that had a natural wooden feel    (mandolin, marimba etc.) to reflect the natural environment of the play. I did use many filmic sounds though I try hard to steer away from too many drones –useful as they are in the theatre-favouring sounds that move in texture. Apart from its rural elemental feel this play has a totalitarian feel –Orwellian and threatening. So I use a lot of unclear textures, as undercores in the scenes. Writing for what the characters cant see or understand. Obfuscation! Finally, if there are funny moments or good lines that might get a laugh-I leave those moments well alone.
We move onto 'I and You' which opens at the Hampstead Theatre later this month. It features another 'Game of Thrones' star, Maisie Williams and explores themes of friendship, adolescent innocence and living life to the full. You have a rich history of collaborating with director Edward Hall – what set this production apart from your previous work together?
This is a wonderful play by the most produced playwright in the States Lauren Gunderson –who shamefully I had not heard of. It is a two hander which is new to me and without giving anything away is set in one room. Ed and I have done a huge range of work at the Royal Shakespeare Company, epic West End Productions like Chariots of Fire, and a number of new plays at Hampstead theatre. This is a delicate piece-chamber essentially which in itself is different from my earlier work with Ed. I am working alongside sound designer Paul Grootius which means I have the comfort of knowing whatever I write will be mixed in with his design and I enjoy that collaboration.  These are younger actors less experienced in the theatre, so I am staying out the way as a presence in the room and in that respect a lot of my work will be done in the final production week. Again, the tone of the piece is very different from what I have done with Ed-again without giving anything away it is very human and verbal but also works on various complex and surprising levels…!
The score features inflections of John Coltrane's 'Love Supreme', performed by you on saxophone, what lead you to incorporate these motifs amongst the more discordant music?
The iconic Coltrane album is featured in the narrative-one of the characters plays the tracks on the album. It is an arrogance and cheek on my part to play with Coltrane –mind you I messed around with Mozart in Amadeus at the National Theatre last year. I used my alto (I know he played tenor) and a double bass and really just fragmented the theme and his improvisation feel. So its not a lift of his opening track as such and it is amongst a lot of other sounds. Coltrane is used by the writer for the obvious spiritual and revolutionary qualities in the music. The play also quotes the poet Walt Whitman. So both huge influences on the American psyche-I honestly feel we could listen to both their voices in the climate of the current administration. I guess it is hard to ignore the reference musically speaking.
It's been an incredibly busy time, with a third play having recently opened at the Menier Chocolate Factory, entitled 'Pack of Lies', which is set in 1960s suburban Britain. The music transforms from a typical English classical score (with performance from you on clarinet) moving into a heavier Russian-influenced thriller – how did you approach the transition from one sound world to the next?   
I followed the narrative of the play from the culture of suburban late 50s Ruislip where the play is set that –again no spoilers –reveals itself to be the centre of a major Russian spy world. So I moved style wise from gentle piano and clarinet (think Finzi, Bax, Howell) to Balalaika to put in simply. I might add that my Balalaika playing is about as good as my Low Whistle playing-but isn't that what reverb's for?? To go between the two styles – I tried to do it subtly. This is a play about secrets, so it is subliminal what the audience hear. I used distorted radio wave sounds, transmitters and bells-tuned percussion samples which gives the music a melancholy and at the same time threatening electronic spy feel. You hear English church bells which of course with tuned percussion in the score soon becomes rather darker and a bit more Red Square.
What else does this year have in store?
Next is a play called Honor at the Park theatre – a 4 hander originally produced at the National Theatre. An everyday tale of marital affairs, heartbreak and mid-life crisis. Piano. Thanks heavens. Contemporary –somewhere between Phillip Glass and Keith Jarrett style wise. gentle noodles no musical "shouting". Which I like. My piano playing is better than my Low Whistle and balalaika playing. After that its Christmas-a new production of Alice in Wonderland, Oh yes! Thank you so much Simon, what an incredibly busy year it's been! Visit the theatres websites for tickets to the performances.