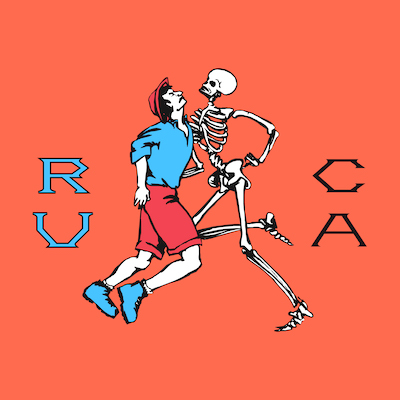 Besant Hall Records Release RUCA
On February 21st 2020, English composer Rupert Cross and Franco-Canadian songwriter Chloé Raunet (aka C.A.R.) released their first EP on Besant Hall Records.
Having previously collaborated on each other's solo material, RUCA was born in the dying days of 2018. Cross's desire to explore noise, grit and different colours of distortion fused perfectly with Raunet's need to exorcise the demons around Brexit Britain. Her words were written off the back of one afternoon stroll through Hackney, in the in-between time between Christmas and New Year.
RUCA kicks off with Push – a dirty, catchy collision of wonky machines tuned slightly out of sync with each other. Raunet laments on bygone fun, 'abandoned social club, a street with no name, nights painted over, forgotten their fame'. An old man on a mobility scooter brushes by, blaring music into the empty street. He's a ghostly allegory, 'pushing the sounds, he's pushing around'…
Friend's Money goes on to dissect the English high street through classic hop-hop instrumentation, minus hip-hop production. Pawn shops, pound shops, payday loans and weekly payment stores, vie for the limited funds of those who have least, all in the shadow of billboards for new multimillion-pound developments no resident can afford.
Nifty Fifty is a frantically fast-paced purge of Brexit-induced anxiety. Raunet, a French passport holder who's lived in London since the age of sixteen, makes a furious call to those in power, 'got me by the neck, you twist, you squeeze, tighter, harder, we can't breathe'…
RUCA then offers some respite with Doldrums. A small palette of synths melts into sound design, capturing the essence of that in between time at the end of the year – Christmas lights are still up but the tinsel's looking tired. For those left in the city, often far from family or friends, these final, dark and dragging days can feel the loneliest.
Finally, Reno ups the tempo once and for all. Even faster than Nifty Fifty, it uses the 'Biggest Little City in the World' as a metaphoric backdrop for the gamble of modern living. It's a desperate swim upstream, pushing against the lies and broken promises of trickle-down economics. Drums are replaced by relentless, swelling percussion, torn open by the violent, brooding tug of a distorted bassline and growing surge of instrumentation.
Bonus track, From The Bottom Of The Stairs, sits in a different realm to the rest of RUCA. It's an aching ballad about overcoming loss, which makes the most of the vocal plates at Air Edel Recording Studios.
Original artwork by Mr Clips, working at No More Parachutes