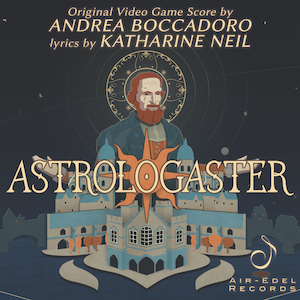 Air-Edel Records Release Nyamyam Video Game Soundtrack 'Astrologaster'
Air-Edel Records have released an album of score and songs from Nyamyam video game 'Astrologaster', available from today across all major digital platforms including iTunes, Amazon and Spotify.
The album features the witty lyrics of Katharine Neil, set to the charming themes of Andrea Boccadoro, recorded with a vocal quartet, lead by soprano Emily Dickens. The songs are an integral part of the game, moving the player through the levels and introducing the many characters in Shakespeare's London.
Astrologaster is a story-driven astrological comedy game set in Shakespeare's London, 1592. A great plague sweeps through the capital. When doctors flee the city in fear, a hero rises. His name is Simon Forman, "Doctor" of Astrology and Physick. Not only does he have the power to cure the sick, he can find their lost pets or even predict their futures, by reading the movements of the stars!
But when the plague ends, Forman's problems begin. The real doctors return to London and they will stop at nothing to expose Forman as a fraud and bring him down. But Doctor Forman is determined to prove them wrong!
Astrologaster is based on a true – and truly ridiculous – story.
The game has already garnered rave reviews, with many highlighting the significant role the music and songs play in the enjoyment of the gameplay experience.
★★★★★ "Witty words on a background of hymn-like music and vocal tones. Each one is a masterpiece in its own right."  – Touch Arcade